Gymnastics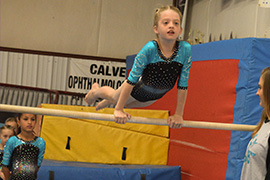 Recreational Gymnastics- known as "Rec gym" is a class for any age. This gymnastics class includes all of the apparatus. Instructors work at each kids ability level on the bars, beam, vault, and spring floor. Learning the basics on all of the equipment builds strength & flexibility. Our trampoline and tumble trac is also included in this class to help master skills. Our beginner gymnasts work on rolls, cart wheels, & round offs. Our more advanced master skills such as back  handsprings, aerials, & back tucks.
Preschool Gymnastics- For ages 3-5. This class helps with flexibility, strength, & coordination. It introduces the trampoline, tumble trac, spring floor, bars, vault, & balance beam.  Working on our basic tumbling skills including rolls, cartwheels, & backbends.  
Middle School High School Tumble class- This class is for our older kids wanting to focus on tumbling skills. Focusing on beginner through advanced skills based on the kids skill level.  The spring floor, tumble trak, & trampoline assist in this class by helping learn back handsprings, back tucks, aerials, & layouts.